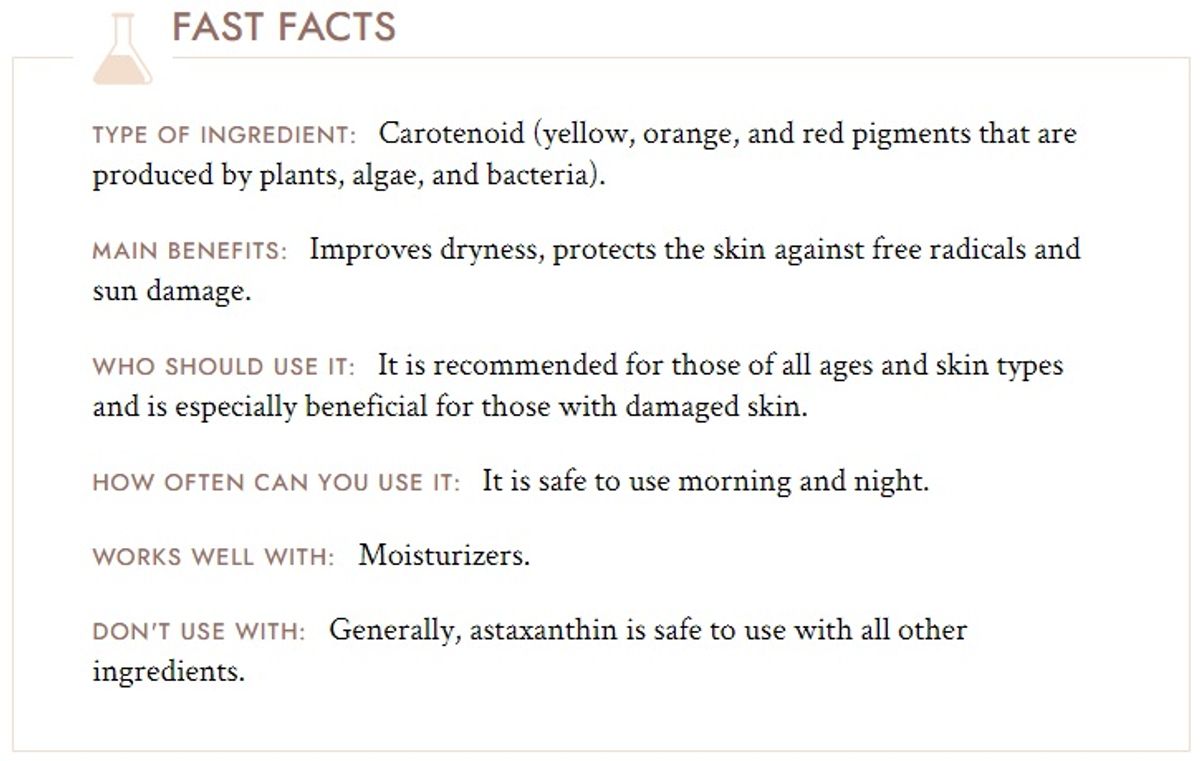 Astaxanthin has been claimed to be the King of Antioxidants, yet many has not heard about this amazing ingredient! Sure, if you're a skin care junkie, chances are you've already heard of the red pigment Astaxanthin. Well, whether you have heard of it or not, fret not as I am about to introduced it to you right now :)


Seriously, what is it — What is this Astaxanthin?
Factually speaking, Astaxanthin is a red pigment that belongs to a group of chemicals called carotenoids. It occurs in certain algae and causes the pink-red color in salmon. Basically, they can be found in various foods. And they kinda looks like this... (at least in powder form).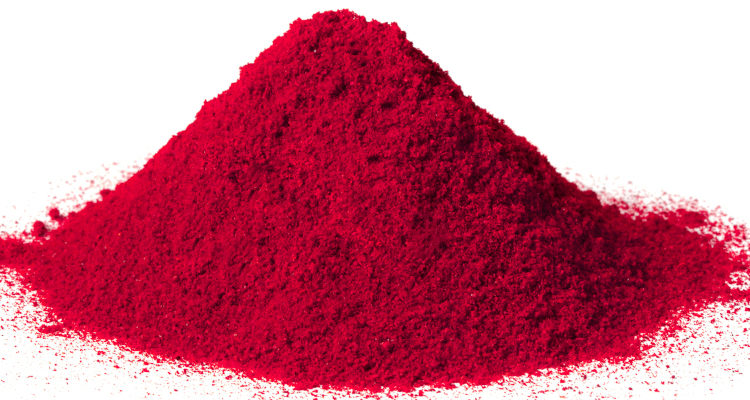 "Astaxanthin is a potent antioxidant known as a carotenoid, found in various foods," says Joshua Zeichner, MD, a dermatologist based in New York City and the director of Cosmetic and Clinical Research in Dermatology at Mount Sinai Hospital. "It naturally has a bright red/orange color, and its high content in salmon is what gives it its color. It also is found in some forms of red algae. Studies have shown that the antioxidant ability of Astaxanthin is much more powerful than Vitamin C."
How Does Astaxanthin Work?
Your body cannot produce Astaxanthin on its own, which means you have to get it through food or dietary supplements. Those who prefer Astaxanthin-rich foods should consume plenty of salmon, shrimp, lobster, rainbow trout, and other seafood.
Seafood, however, might not be a plausible way to get significant amount of Astaxanthin. The richest seafood source – sockeye salmon, for instance, has only 4.5mg of the compound per every ounce. That's not enough to spur the desired health benefits.
That's why most people go for dietary supplements.
So, how does Astaxanthin actually work? It's pretty simple and straightforward: it's an antioxidant.
Get this:
Astaxanthin is 550 times more effective as an antioxidant than vitamin E

Astaxanthin is nearly 6,000 times stronger than vitamin C, one of the most important vitamins when it comes to boosting the immune system

It's also 550 times richer as a source of antioxidants than green tea or other Catechins.
Against this background, it is quite clear that Astaxanthin is hands down one of the best ways to ingest antioxidants into your body.
As you may already know, antioxidants are important for your body. They play a big role in human growth, health, and wellness. These nifty compounds boast some of the most powerful anti-inflammatory properties.
Skin Benefits of Astaxanthin
Protects against UV rays: It's worth mentioning Astaxanthin's natural knack for protecting our skin against damaging UV rays when ingested or used topically.
Repairs DNA damage: The fact that it protects against UV rays is actually a two-fold benefit, as sun damage causes DNA damage. Fortunately, Astaxanthin helps with that.
Wards off wrinkles: Astaxanthin has been shown to neutralize free radical damage, calm inflammation in the skin in eczema, and improve the appearance of fine lines and wrinkles in aging skin.
Protects against hyperpigmentation: Again, this goes back to Astaxanthin's antioxidant properties. The generation of free radicals, also known as reactive oxygen species (ROS), is highly connected to skin aging. Thus, Astaxanthin can help protect the skin and reduce the appearance of fine lines, wrinkles, hyperpigmentation in addition to helping repair DNA damage due to UV rays.
Moisturizes: Some studies point out that combining a topical dosage with an oral dosage might help youth-preserving efforts in the long run (e.g. less pigmentation and more luminosity and moisture).
Fights free radicals: Astaxanthin is a powerful antioxidant and is sometimes referred to as the "strongest antioxidant in nature," and it's no wonder. With high levels of well-known antioxidants such as vitamin C and vitamin E, Astaxanthin can help the skin respond to oxidative damage from environmental aggressors, such as the sun, as well as inhibit free radical formation.
Ideal for those with sensitive skin: Astaxanthin has also been studied to have anti-inflammatory properties aiding in skin redness, sensitivity, and inflammation.
Health Benefits of Astaxanthin
Enhances the immune system: Astaxanthin has been found to increase the body's stores of immunoglobulin, which help the immune system fight against viruses and even melanoma, according to the 2018 review.
Can help patients manage diabetes: Astaxanthin's antioxidant properties can help protect pancreatic beta cells by reducing oxidative stress and sugar toxicity in the blood. In fact, in one milestone study published in 2002, scientists found that astaxanthin reduced glucose toxicity in diabetic mice and therefore protected their pancreatic beta cells. In a 2018 study, researchers discovered that astaxanthin can help lower high blood pressure and improve the metabolism of sugar in patients with type 2 diabetes.
Helps with heart disease: Astaxanthin plays a role in reducing high cholesterol, increasing blood flow, and relaxing blood vessels. The combination of the three positive effects results in a healthy heart.
Improves blood pressure: Astaxanthin has shown great potential in preventing and reducing high blood pressure as well as ameliorating associated effects. And there are several studies that seem to agree. Astaxanthin as an antioxidant helps reduce bad cholesterol and therefore prevent hypertension. Astaxanthin also fights hypertension by reducing blood oxidative stress and relaxing the walls of the blood vessels. In a study published in 2005 in the Journal of Biological and Pharmaceutical Bulletin, scientists found that Astaxanthin use helps regulate nitric oxide (a sign of oxidative stress) and increases the reactivity of blood vessels.
Helps Manage Your Ulcers: Astaxanthin help control ulcer-causing bacteria, H. pylori. By doing so, it allows ulcer wounds to heal faster and prevent a recurrence.
Helps Protect You Against Bacterial Inflammation: The anti-inflammatory properties of Astaxanthin are owed to its antioxidant tendencies. In a study published in the Journal of Investigative Ophthalmology & Visual Science, researchers found that astaxanthin is effective against oxidative stress caused by nitric oxide. It is this reduced inflammation properties found in Astaxanthin that helps protect your lungs, eyes, stomach lining, and heart against bacterial inflammation.
Helps Prevent And Treat Fatty Liver Disease: There are two key ways that Astaxanthin is known to help prevent or treat fatty liver disease. First, it acts as an antioxidant which stays on top of oxidative stress in the liver. By getting rid of excess radicals caused by metabolic disorders, Astaxanthin helps restore normal liver function and avoid liver damage. It can also work independently of its antioxidant properties to protect the health of the liver. In a 2016 study, Jui-Tung Chen and his team at the Jichi Medical University in Japan found that Astaxanthin use can help protect the liver function and prevent fatty liver disease, cancerous disease, and cardiovascular disease.

Another study published in 2018, scientists discovered that Astaxanthin is effective against alcoholic fatty liver disease in mice by their regulating gut bacteria.

Boosts Physical Performance: Astaxanthin encourages the body to take advantage of its own supply of fatty lipids, which improves exercise endurance, stamina, and muscle fatigue during and after exercising.
Prevents And Reduces Brain Damage from Stroke: Astaxanthin can play a key role in preventing and reducing brain damage from stroke. It works by stimulating blood flow, reducing blood pressure, relaxing blood vessels, and ameliorating oxidative stress.
May Reduces the Risk of Developing Alzheimer's: As an antioxidant, Astaxanthin has joined the list of potential treatment options for Alzheimer's. There is a multitude of ongoing studies on the effects of aAstaxanthin for Alzheimer's, but preliminary results are something to write home about. For example, in a 2010 study, scientists were thrilled to discover that antioxidant properties of Astaxanthin can be instrumental in reducing the risk of developing Alzheimer's disease, especially the early onset type.
May Slows Down the Development of Parkinson's Disease: Experts believe that the antioxidant and anti-inflammatory properties of Astaxanthin play a role in the protection of mitochondria and nerve cells.
May Help With Male Infertility: Fertility experts and scientists have been actively studying how to use antioxidants to deal with sperm oxidative stress and therefore cure male infertility. It turns out, Astaxanthin is literally what the doctor prescribed! One intriguing study published in 2005 shows positive results of Astaxanthin for treating infertility in men. In a 3-month period, the researchers assessed 30 individuals diagnosed with male infertility. In the course of the study period, scientists noted uptick and positive improvements in several sperm metrics.

Helps Alleviate Menopausal Symptoms

: As per early research conducted by scientists, a combo supplement comprising Astaxanthin has been found to help reduce menopause symptoms. These are especially climacteric symptoms like hot flushes that are often associated with high levels of cortisol (a stress hormone) and oxidative stress. In one particular study published in 2017 and another one conducted in 2018, researchers found this to be true. Not only does Astaxanthin help with skin care, heart repair, and exercise fatigue, it can also prevent signs associated with menopause.

May Reduce Pain Symptoms Tied to Rheumatoid Arthritis

: Packed with antioxidant and anti-inflammatory properties, it is not surprising that researchers exploring if Astaxanthin can help reduce pain symptoms and inflammation related to rheumatoid arthritis.






How to Use It
Serums, moisturizers, oils, and food supplements containing Astaxanthin can be used morning and night, depending upon what else is in the products. In fact, it might even be a good idea to combine it with other powerhouse antioxidants, such as vitamins C or E.
Best Product With Astaxanthin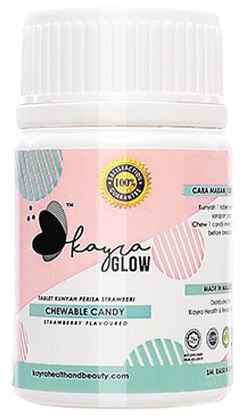 Kayra Glow: Strawberry Flavoured Chewable Candy (RM50)

This tasty tablets (strawberry flavoured) from Kayra essentially does it all: revitalizing, brightening skin, boosting the immune system with an all-star roster of antioxidants. It's a great option to hydrate the skin and fight off damage from free radicals. Plus, the other Key Ingredients of this superb supplement is Vitamin C!